Playing Peek-A-Boo!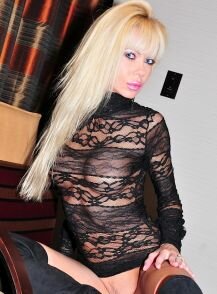 I thought this title was perfect for being dressed in my sexy semi see-thru black lacy top with my hot black thigh high boots, and with what I was doing in front of the open hotel window. You see, I got decked out before heading down to the bar downstairs with Jimmy so that I could get lucky with some hot stud. Jimmy only wanted to take a few snapshots of me as he thought I looked super hot, and one thing led to another with me teasing him as he snapped and snapped his camera. It got even better, apparently there were guys from below looking up at our window where I was totally exposed…Continue Here.
Slut Fucks BBC While Fans From AVN Feed Her!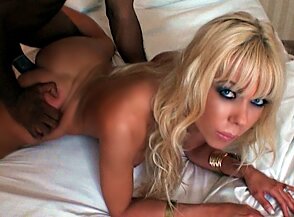 This video has a lot of different things I love: BBC, blowjob, fucking, voyeurs, and food! You see, this all started when I was at the AEE show and my friend Shaundam had visited me. He missed my pussy and wanted his BBC to get pleasured again. I didn't really want to leave the show as I didn't want to miss seeing my fans. It wasn't until this couple that was there initiated the proposition that they so badly wanted to witness this live porn scene going on. Well, that was enough for me to get wet right away and agree to having my way with Shaundam, or vice-versa, he-he-, as they watched us. So, I met Shaundam in his hotel room and was too horny to wait around for the couple to come back. We got started with some naughty action when finally the couple showed up. Let's just say that while I got fucked really good, I've never been fed food, especially with something so good, as it was fried oreo cakes that I tried for the first time…Continue Here.
Titty-Flashing Fun at the Beach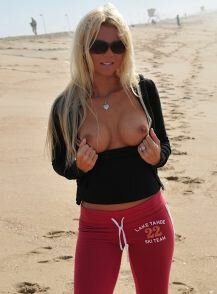 I absolutely love the beach; the smell of fresh salt water, the wind blowing through my hair, the sound of the waves crashing, and the list goes on. I was in my perky little horny mood when hubby and I walked around the beach. It was a little chilly and windy outside, but that didn't stop me from flashing my tittie, especially when the guys admired the view. My nipples were so hard from being excited and..Continue Here.
Naughty Slut Wife Orally Seduces Young Teacher
I love to expand my horizon and learn new things, but when it comes to the computer sometimes, I need help. That's when I decided to hire a college student to tutor me to be able to design in flash. I knew this might be challenging for me, that is…as I have a weakness for college studs, so my distraction for Carl caused me to sightly hinder my ability to learn appropriately in a timely fashion. You see, I wasn't dressed in a typical outfit that someone might be tutored in, as I am a horny MILF all the time. Instead, I wore sexy thigh highs, black lace panties, an oxford shirt, and a tie…oh, and did I mention heels? Anyway, I got Carl so distracted with the way I was dressed, and with Jimmy and the camera there, he didn't know what to do with how aroused he was at the sight of me, but that he just went with the flow and allowed me to give him…Continue Here.
A Naughty Trailer I Couldn't Resist To Post!
Yay! I'm so excited to show you evidence of what transpired in my post entitled "Moonlight Sonata Turns Moonlight Slutata." So this trailer I'm hoping will get your juices going just as much as it did for me. I think I should play my piano in lingerie more, what do you think? *wink*



If you like this video trailer, be sure to check out my website for more slut wife type videos and photos. To view this hardcore video uncut and in HD, just click on the banner below!
A Moment of Ecstasy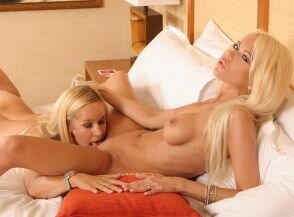 Wow, I have to say I really got caught up in the moment here as you can see. My girlfriend Totally Tabitha had her way with me before a hot stud came by to have his way with the two of us. I like girl/girl fun, and this moment when she started eating my pussy out, there was no way she was going to stop until I reached orgasm. I can't begin to tell you what I was feeling when her warm tongue circled…Continue Here.
Moonlight Sonata Turns Moonlight Slutata!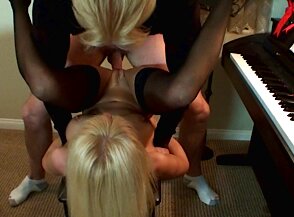 I tend to play my piano in spurts, and the one time I was messing around on my piano in lingerie was when Jimmy caught me by surprise with the video camera. You see, I thought Jimmy was in the garage working on some stuff, and I really felt horny, but I didn't want to bother him, so I figured I would get in some lingerie and have fun on cam. Before getting on cam, I was thirsty so on my way to the kitchen , I became sidetracked by my piano, sat down, and started playing some piano literature. Little did I know Jimmy was around the corner with the video camera listening to me. As he approached me, I noticed him from the corner of my eye and became distracted while playing. Jimmy was very much turned on by the fact that I was playing in sexy lingerie with thigh highs. That didn't stop there when he challenged me to play Moonlight Sonata while fucking his cock, something I've never done before. I wouldn't be surprised if I made Beethoven turn in his grave on this one. Anyway, this venture was fuckaliscious…Continue Here.
Naughty Red Pool Table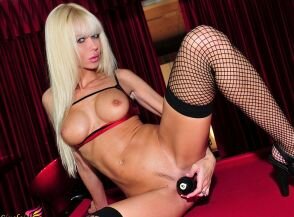 The color red makes me feel like I'm on fire, but in a good way. I just get hot and heavy with horniness! Everything around me was red, including the sexy lingerie on my body. With that pool table there and a bunch of guys watching me, you couldn't ask for a better combination. Oh, and the stick in my hand too? Umm…all the dirty thoughts in my head just kept racing, and all I could do was keep my composure and act cute and naughty at the same time. It's just too bad I didn't show you the proof of what actually happened right after these photos were taken. One of the guys watching me climbed right on top of me and fucked me…Continue Here.
AVN 2011 Red Carpet
Well, here are a couple pics of me and hubby Jimmy from the AVN Red Carpet, taken by photographer Gerald Saunders. We had such a blast, as following the Red Carpet was the awards show that we attended. After the show, it was time to party, party, party. Have I said we partied? Ok, so let's just say there was much recouperating after, lol.
Salesman's Cummission Split Between 2 Sluts!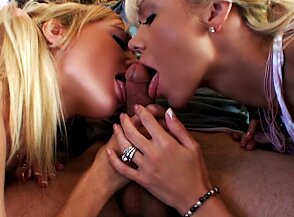 I just love sales guys, especially when they knock on your door to sell something. I was home with my friend Liz hanging out until the doorbell rang. There were two guys at the door selling home fitness equipment. Apparently they didn't know that my husband has been in the fitness industry himself for over 20 years. Anyway, the two guys were cute so I invited them in just to hear their sales pitch. Liz and I were feeling frisky and wanted to tease them anyway. Chris got the idea that we were two horny little bitches, so he came into our living room to give us more information while his sales partner staked out on the stairs…I guess he was too Christian for our cup of tea; moreover, we actually thought he would leave and wait outside. Anyway, we started talking and told Chris that we were sluts and wanted to capture a naughty spontaneous moment on film. How could he say no to us? Except for the only stipulation that he didn't want his face on camera. So in this video, what you see is a spontaneous little threesome with us two blondies giving this guy some really good head and…Continue Here.